Busking in Sydney Part 2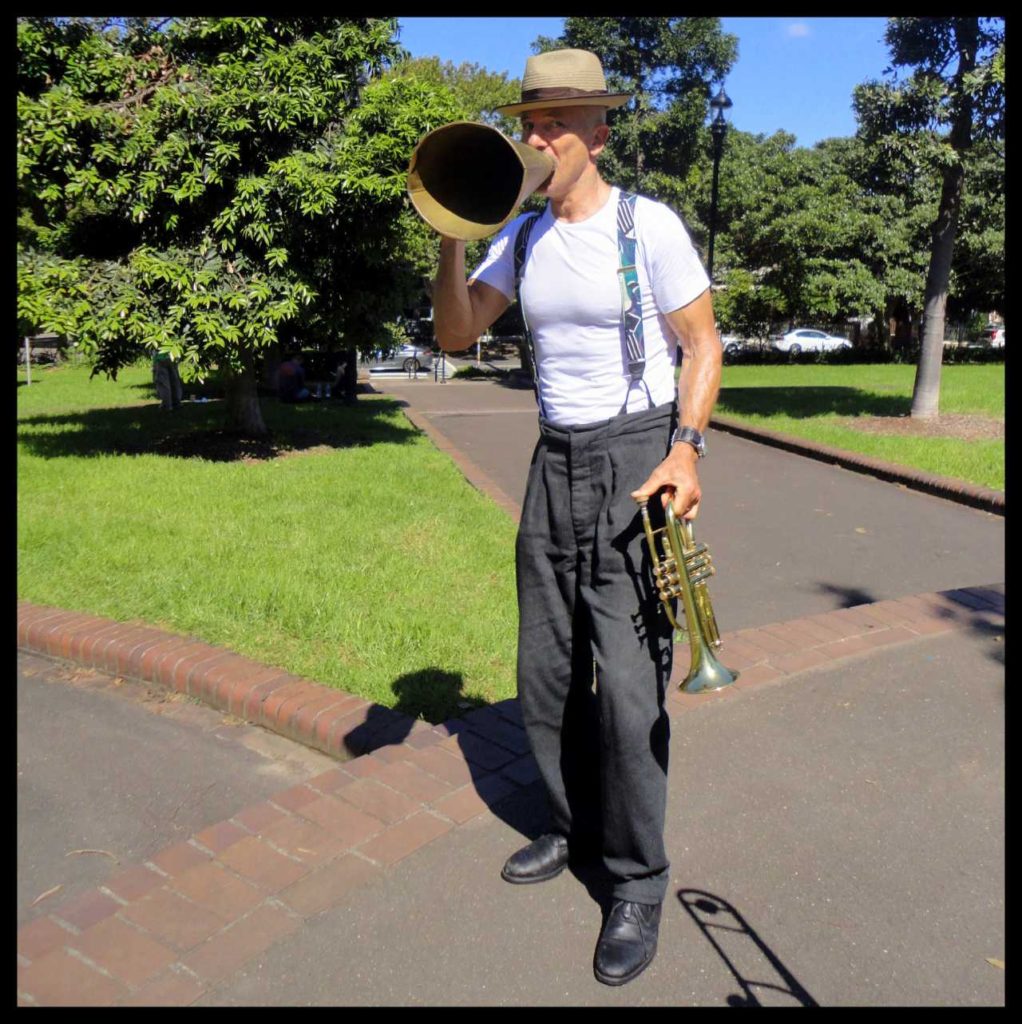 Live Music In The Rocks
Back in the 1990's and early 2000's, I used to play regularly at The Rocks Markets. I can't remember how I came to be booked, but I do remember that I used to play there about once a month.
The gig was run by the Sydney Harbour Foreshore Authority. There was a stage that faced onto an expansive courtyard. In the early days, they supplied a PA and an operator. They would hire two bands, one for the morning slot and another for the afternoon slot. In addition, there would be roving entertainers and street-performers. I can remember that we used to get paid $600 and used to play two or three sets.
Then The Cutbacks Started
Then, not long after the Sydney Olympics, entertainment started getting cut back. It went from two bands down to one band. The next thing to go was the PA and operator. Bands were required to bring their own PA. This led to complications with surrounding shops, because some bands would be louder than others. Without a supplied PA and operator, there was no uniformity to sound or volume levels. Eventually, they closed the courtyard for renovations and the entertainment program was dropped.
So, What Has Replaced It?
The Sydney Harbour Foreshore Authority has been replaced by "Property NSW". It's a very corporate name for a Government Department. This description of what they do comes from their website – https://www.property.nsw.gov.au/
Property NSW is focused on excellence in property, infrastructure and places. We deliver continuous improvement and innovation. Our approach is to collaborate with stakeholders to deliver government objectives for the community. We manage the State's significant property portfolio and its places, which results in better visitor experiences and services for the people of NSW.
Property NSW's Entertainment Solution
These days, instead of hiring musicians or entertainers, Property NSW make busking sites available. Three busking sites (referred to as "pitches") are made available over the weekend to musicians who are given approval by Property NSW. Despite musicians being required to have $20 million in public liability insurance, getting permission is highly competitive. Then, once you get "on their books", it's the typical hustle of getting in ahead of other musicians applying to occupy a "pitch" for a two and a half hour performance. This, of course, is all for the opportunity to play for free in what ever the weather is for the day. Add to this the fact that if you do secure a "pitch" for two and a half hours, there are going to be two other buskers in other "pitches" who you are effectively competing with.
Busking Last Saturday With My Old Mate Paul
A bass player I first met thirty years ago is Paul Meader. He is a regular busker at The Rocks Markets, and usually does it with his children, whose ages are around 18 and 20. Paul's son was away for the weekend, so he asked me to be his busking buddy for a Saturday afternoon session. I took down my ukulele and sang, with Paul playing his double bass. We played solidly for two hours and made just over $100 between us, i.e. $50 each.
Governments And The Economy
The Federal Government wonders why the economy is running flat. They could consider this. Back in the 1990's, my four piece band was employed by a Government Department and we were making $150 each. Nowadays, the same but "re-branded" Government Department pays nothing, but allocates public space to musicians to play for free with remuneration dependent on the generosity of tourists.
And that's Sydney…
To read part one about busking in Sydney, please follow this link –
https://allthatjazzband.com/1920s-music/problems-taking-1920s-music-coogee-beach-sydney/